山东半岛规模最大糖酒会 东北亚国际糖酒会第一展
2019中国(青岛)国际糖酒食品交易会暨全国高端饮品博览会
2019 China (Qingdao) International Sugar & wine trade fair and national high-end beverage Expo
一、展会背景
青岛市,又被誉为"东方瑞士",特大城市、副省级市,山东省经济中心、国家沿海重要中心城市、滨海度假旅游城市、国际性港口城市、国家重要的现代海洋产业发展先行区、东北亚国际航运枢纽、海上体育运动基地,"一带一路"新亚欧大陆桥经济走廊主要节点城市和海上合作战略支点。青岛地处山东半岛东南部沿海,隔海与朝鲜半岛相望。是全国首批沿海开放城市,世界啤酒之城、是国务院批准的山东半岛蓝色经济区规划核心区域龙头城市。青岛拥有国际性海港和区域性枢纽空港,有一个国家级新区(青岛西海岸新区),经济总量紧排上海浦东新区和天津滨海新区之后,位列第三。是繁华的国际现代都市和举世闻名的风景旅游、度假避暑胜地。
为搭建山东半岛酒类、食品一流产销对接平台,打造东北亚国际糖酒会第一专业展,由中国糖酒联盟、山东省糖酒副食品批发市场联盟、山东巨帆会展服务有限公司等单位联合组织承办的"2019中国(青岛)国际糖酒食品交易会暨全国高端饮品博览会(以下简称:青岛国际糖酒会)"定于6月7-9日在青岛华秀国际会展中心隆重举办。本届展会预计展出面积20000平方米,展区划分精品食品饮品展区、品牌名酒展区、国际葡萄酒展区、特许连锁加盟展区等4大展区。品牌名酒展区及国际葡萄酒展区将邀请到海外法国、南非、澳洲、智利、西班牙、格鲁吉亚等主流国际葡萄酒生产国相关机构参展。本次展会预计邀约观众人次6万人,将有来自山东、江苏、河南、河北、安徽、辽宁等华东、华北、西北、中部的超过20000家经销商、代理商、批发商、实力团购买家及媒体、学者前来参观选购。
我们盛情邀请您来青岛参加本届展会,迅速拓展东北亚糖酒大市场!组委会将以高规格、高标准、高实效为起点,贴近市场、服务客商,为糖酒食品行业打造 "更优质、更便捷、更专业、更实效"的国际国内贸易新平台。
好客山东 魅力青岛欢迎您!
Exhibition background
Qingdao, also known as "Eastern Switzerland", mega-city, sub-provincial city, Shandong economic center, national coastal important center city, coastal resort tourism city, international port city, national important modern marine industry development pioneer area, Northeast Asia international shipping hub, marine sports base, "one." Take "one road", the main node of the New Asia Europe continental bridge economic corridor and the strategic fulcrum of maritime cooperation. Qingdao is located on the southeast coast of the Shandong peninsula. It is the first batch of open coastal cities in China, the world beer city, and the leading city of the blue economic zone of Shandong Peninsula approved by the State Council. Qingdao has an international seaport and regional hub airport. It has a national-level new area (Qingdao West Coast New Area). Its total economic output ranks third after Shanghai Pudong New Area and Tianjin Binhai New Area. It is a bustling modern international metropolis and world-famous scenic summer resort.
In order to build a first-class production and marketing platform for liquor and food in Shandong Peninsula and create the first professional exhibition of Northeast Asia International Sugar and Wine Fair, the "China (Qingdao) International Sugar and Wine Fair 2019" was jointly organized by China Sugar and Wine Federation, Shandong Sugar and Wine Wholesale Market Federation, Shandong Jufan Convention and Exhibition Service Co., Ltd. The National High-end Beverage Expo (hereinafter referred to as: Qingdao International Sugar and Wine Fair) will be held in Qingdao Huaxiu International Convention and Exhibition Center from June 7 to 9. The exhibition is expected to cover an area of 20,000 square meters. The exhibition area is divided into 4 major exhibition areas, including fine food and Beverage Exhibition area, brand wine exhibition area, international wine exhibition area and Franchise Exhibition area. Brand wine exhibition area and international wine exhibition area will be invited to France, South Africa, Australia, Chile, Spain, Georgia and other mainstream international wine producers to participate in the exhibition. The exhibition is expected to invite 60,000 spectators, more than 20,000 dealers, agents, wholesalers, purchasers, media and scholars from Shandong, Jiangsu, Henan, Hebei, Anhui, Liaoning and other eastern, northern, northwestern and central China.
We invite you to come to Qingdao to attend this exhibition and expand the sugar market in Northeast Asia. The Organizing Committee will take high specifications, high standards, high efficiency as the starting point, close to the market, service merchants, for the sugar, wine and food industry to create a "better quality, more convenient, more professional, more effective" international and domestic trade platform.
Hospitality Shandong charm Qingdao welcomes you!
二、展会时间/地点
展览时间:2019年6月7-9日
布展时间:2019年6月5-6日
展览场地:青岛华秀国际会展中心(青岛市市北区四流南路80号)
支持单位:
山东省白酒工业协会
山东省葡萄与葡萄酒协会
山东省啤酒工业协会
山东省饮料工业协会
青岛华秀国际会展中心
主办单位:
中国糖酒联盟
山东省糖酒副食品批发市场联盟
承办单位:
山东巨帆会展服务有限公司
泉城会展网
协办单位:青岛即墨市东关副食品批发市场、济南凤凰山名酒城、济南西沙大市场、山东济南匡山酒水批发市场、临沂华丰副食城、菏泽恒盛大市场、聊城香江光彩大市场、中国庆云酒水副食城城、德州黑马商城、枣庄真爱商城、潍坊青州瓜果市场、山东烟台阳光干果批发市、寿光市东宇副食百货批发商城、河南省商丘市糖酒商会、徐州市糖酒商会;
协办媒体:火爆好酒招商网、火爆食品饮品招商网、中国糖酒网、美酒招商网、好妞妞食品饮料招商网等320余家行业媒体
展会宗旨:品质 共享 共赢
展会规模:预计展出面积20000平米,折合国际标展1200余个
辐射市场:山东、江苏、安徽、河北、河南、北京、天津、韩国、朝鲜、日本等区域
预计国内观众:60000人次
预计境外观众:2300人次
预计专业采购团:300个以上。
Two, exhibition time / place
Exhibition time: 7-9 June 2019
Exhibition time: 5-6 June 2019
Venue: Qingdao Hua Xiu International Convention and Exhibition Center, No. 80, four Liu Nan Road, Shibei District, Qingdao
Support unit: Shandong Liquor Industry Association
Shandong grape and Wine Association
Shandong Beer Industry Association
Shandong Beverage Industry Association
Qingdao Hua Xiu International Convention and Exhibition Centre
Sponsor: China sugar and wine Alliance
Shandong sugar, wine and non-staple food wholesale market alliance
Organizer: Shandong Ju fan Exhibition Service Co., Ltd.
Spring City Convention and exhibition network
Co-sponsors: Qingdao Jimo Dongguan Food Wholesale Market, Jinan Fenghuangshan Wine City, Jinan Xisha Market, Shandong Jinan Kuangshan Wine Wholesale Market, Linyi Huafeng Non-staple Food City, Heze Hengsheng Market, Liaocheng Xiangjiang Glorious Market, China Qingyun Wine Non-staple Food City, Dezhou Black Horse Mall, Zaozhuang True Love Merchants City, Weifang Qingzhou Melon and Fruit Market, Shandong Yantai Sunshine Dry Fruit Wholesale City, Shouguang Dongyu Food Wholesale Mall, Henan Shangqiu Sugar and Wine Chamber, Xuzhou Sugar and Wine Chamber;
Co-sponsored media: Hot Pop Good Wine Investment Network, Hot Pop Food and Beverage Investment Network, China Sugar and Wine Network, Fine Wine Investment Network, Hot Girl Food and Beverage Investment Network and other 320 industry media
Exhibition Objective: quality sharing and win win
Scale of exhibition: it is expected that the exhibition area will be 20000 square meters, which will be equivalent to more than 1200 international standard exhibitions.
Radiation market: Shandong, Jiangsu, Anhui, Hebei, Henan, Beijing, Tianjin, South Korea, Korea, Japan and other regions
Estimated domestic audiences: 60000
Estimated 2300 overseas visitors
More than 300 professional procurement teams are expected.
三、展会亮点
(一)地利——青岛
1、山东是中国最大食品消费市场和中国最大食品生产基地之一、山东——世界级的轻重工业制造工厂、中国最大的食品医药化工产业基地、环渤海经济圈最大的经济体;
2、青岛— 中日韩贸易合作区、环渤海经济区副中心、最具活力的国家级创业型城市.
3、产业集群—全国最大的海洋食品产业集群、全国最大食用农副产品产业集群、全国最大产量的肉类基地、全国最大的果蔬生产基地、全国最大的食用菌产业基地、全国最大的医药兽药原料药产业集群;
4、山东交通优势居中国之最:(海:青岛港、日照港、烟台港、威海港,黄河、大运河穿梭山东;高速公路:山东省市中国高速网线覆盖最全的省份,由26条国家级高速穿越山东;机场:拥有济南、青岛、威海、烟台、潍坊、临沂、济宁等大型国际机场;高铁:每十分钟就有京沪高铁一趟穿越山东)。
(二)天时——2019年6月7-9日
每年六月过后,企业要在原定的年销售计划推进执行的节点上进行一次重新梳理,这不仅是对上半年的销售总结,更是对下半年中秋、春节这两个关键旺季的冲量的决策。六月的选择,决定整个一年的销量!也是经销商为下半年产品做准备的黄金时间点!
(三)人和——山东半岛36480万人超级市场等你开启!
1、专车接送:山东省周边省市500公里境内专业市场采购商及商户实现豪华大巴免费接到会场,组委会投巨资打造2019青岛国际糖酒会倾力打造中国一流糖酒盛会。
2、深耕细作:山东巨帆会展凭借十余年从事酒类食品会展行业的深耕细作,我们拥有成熟的办展经验和8万家忠实参展商以及500万买家数据库,让参展企业效果有保证。
Three, exhibition highlights
(1) geographical location - Qingdao
1. Shandong is China's largest food consumption market and one of China's largest food production bases, Shandong-world-class light and heavy industrial manufacturing plants, China's largest food, pharmaceutical and chemical industry base, the largest economy in the Bohai Sea economic circle;
2. Qingdao-China-Japan-Korea Trade Cooperation Zone, the sub-center of the Bohai Rim Economic Zone and the most dynamic state-level entrepreneurial city.
3. Industrial cluster-The largest marine food industrial cluster in China, the largest edible agricultural and sideline product industrial cluster in China, the largest meat production base in China, the largest fruit and vegetable production base in China, the largest edible fungus industrial base in China, and the largest pharmaceutical and veterinary drug raw material industrial cluster in China.
4. Shandong has the most traffic advantages in China: (Hai: Qingdao Port, Rizhao Port, Yantai Port, Weihai Port, Yellow River and Grand Canal shuttle Shandong; Expressway: Shandong Province, the province with the most complete coverage of China's high-speed network, by 26 state-level high-speed through Shandong; Airport: Jinan, Qingdao, Weihai, Yantai, Weifang, Linyi Jining and other large international airports; High Speed Rail: Beijing-Shanghai high-speed railway runs across Shandong every ten minutes.
(two) days - 7-9 June 2019
Every year after June, the enterprise should carry out a reorganization on the nodes of the original annual sales plan. This is not only a summary of sales in the first half of the year, but also a decision on the impulse of the second half of the Mid-Autumn Festival and the Spring Festival. June's choice determines the sales volume for the whole year! It's also the golden time for dealers to prepare products for the second half of the year!
(three) people and Shandong supermarket 364 million 800 thousand people supermarket!
1. Special transport: professional market purchasers and merchants within 500 kilometers around Shandong Province receive luxury buses free of charge. The Organizing Committee invested a huge sum of money to build the Qingdao International Sugar and Wine Festival in 2009 to build China's first-class Sugar and Wine Festival.
2. Deep Cultivation: With more than ten years of intensive cultivation in the industry of alcoholic food Convention and exhibition, Shandong Giant Fan Convention and Exhibition has mature exhibition experience and 80,000 loyal exhibitors and 5 million buyers database, so that the effect of the exhibitors can be guaranteed.
四、参展范围
(一)国内企业展区
白酒、葡萄酒、啤酒、功能酒;
各种食品、饮料、海洋食品、乳制品、烘焙、糖果糕点等
(二)国际企业展区:
进口洋酒、烈性酒、啤酒、进口葡萄酒、进口食品、饮料、乳制品等
(三)食品包装机械区:
加工设备:啤酒饮料、乳品、肉类加工设备,冷冻冷藏设备;休闲食品、方便食品、调味品加工设备,餐饮设备,中央厨房设备保鲜真空包装设备;分选、清洗切割、干燥粉碎、振动筛分、混合搅拌、提取分离、蒸煮浓缩、发酵灭菌、热交换、水处理设备、泵阀管件等。
Four. Scope of exhibition
(1) exhibition of domestic enterprises
Liquor, wine, beer, functional wine;
All kinds of food, beverages, marine food, dairy products, baking, confectionery and so on.
(two) international business exhibition area:
Imported wine, spirits, beer, imported wines, imported foods, beverages, dairy products, etc.
(three) food packaging machinery area:
Processing equipment: beer beverage, dairy, meat processing equipment, refrigeration and refrigeration equipment; leisure food, convenience food, condiment processing equipment, catering equipment, central kitchen equipment, fresh-keeping vacuum packaging equipment; sorting, cleaning and cutting, drying and grinding, vibration screening, mixing and stirring, extraction and separation, cooking and concentration, hair Fermentation sterilization, heat exchange, water treatment equipment, pump valve fittings and so on.
五、观众来源
1、流通领域:酒水、副食品批发贸易商、经销商、零售商、进口商、加盟商、网商等。
2、采购商:国内各省市大型商超、百货公司、星级酒店、中高档餐饮机构、宾馆、会所、酒吧、咖啡厅、夜总会、连锁餐厅和连锁酒店、免税经营者、卖场、便利店等。
3、团购商:全国各省市机关单位、大型集团、商业地产、餐厅、零售商等。
4、投资者:酒类收藏人士、品酒爱好者、高档会所以及预进军糖酒食品业的投资者。
5、国际贸易商:海外糖酒食品国际贸易商、采购商、进出口商,跨境电商。
6、协会媒介:各省市行业主管单位、酒类食品商协会、媒介媒体。
Five. Audience sources
1. Distribution areas: wholesale traders, distributors, retailers, importers, franchisers, online merchants and so on.
2. Purchasers: Large-scale supermarkets, Department stores, star-rated hotels, medium and high-grade restaurants, hotels, clubs, bars, cafes, nightclubs, chain restaurants and hotels, duty-free operators, stores, convenience stores, etc.
3, group buying business: provincial and municipal organs, large groups, commercial real estate, restaurants, retailers and so on.
4. Investors: Wine collectors, wine lovers, high-end clubs and investors who enter the sugar, wine and food industry.
5, international traders: Overseas sugar, wine and food international traders, buyers, importers and exporters, cross-border electricity providers.
6. Media of the association: the competent departments of various provinces and cities, the association of alcoholic food merchants and the media media.
六、宣传推广
1、广告媒体宣传:
(1)专业媒体:官网、行业杂志、门户网站、行业公众号等百余家领域媒体。
(2)大众媒体:报纸、杂志、广播、电视、户外等近40家媒体。
(3)新媒体:今日头条、微信、微博、大V等60多家新媒体。
2、定向邀请:
(1)联合政府及行业协会在重点区域定向推介。
(2)开通专业采购商直通车,覆盖山东省与周边省市专业市场。
(3)30万最新的专业观众数据库,专人定向邀请。
(4)实行VIP专业观众政策,提供现金及食宿补贴。
(5)国内外同类大型展会定向推广邀约。
3、国际推广:
(1)与国外商务网站合作,通过文字链接、旗帜广告等方式推广。
(2)境外发行贸易杂志做展览会推广。
(3)对境外目标观众进行定向专人邀请。
(4)通过境外相关行业协会、商会、驻华使领馆商务处与国际旅行社团开展境外的观众组织活动。
Six, publicity and promotion
1, advertising media publicity:
(1) Professional media: the official website, industry magazines, portal sites, industry public numbers and other media in more than 100 fields.
(2) mass media: newspapers, magazines, radio, television, outdoor and so on nearly 40 media.
(3) new media: more than 60 new media such as today's headlines, WeChat, micro-blog, big V and so on.
2, directional invitation:
(1) joint government and trade associations will promote in key areas.
(2) open up professional buyers through train to cover the professional market of Shandong and neighboring provinces and cities.
(3) 300 thousand of the latest professional audience database, specially directed invitation.
(4) implement the VIP professional audience policy and provide cash and accommodation subsidies.
(5) promotion of similar large-scale exhibitions at home and abroad.
3, international promotion:
(1) cooperation with foreign business websites, through word linking, banner advertising and so on.
(2) issuing trade magazines abroad to promote exhibitions.
(3) to invite targeted audiences abroad.
(4) To organize overseas audience activities through overseas relevant trade associations, chambers of commerce, commercial offices of embassies and consulates in China and international travel agencies.
七、配套活动
(一)2019青岛国际糖酒会新闻发布会
(二)2019青岛国际糖酒会名酒名饮品鉴会
(三)2019青岛国际糖酒会"新产品、新渠道"精准对接会
(四)2019首届山东半岛酒类、食品行业新旧动能转换高峰论坛
(五)2019山东省中小企业转型升级暨特许连锁创业项目推介会
备注:以上活动以展会现场公示为准最终解释权归大会组委会。
Seven. Supporting activities
(1) 2019 Qingdao international wine and sugar fair press conference
(two) 2019 Qingdao international wine and Beverage Association
(three) 2019 Qingdao international sugar and Wine Fair "new products and new channels" precise docking.
(four) 2019 the first Shandong Peninsula liquor and food industry new and old energy conversion Summit Forum
(five) 2019 Shandong SME transformation and upgrading and franchise chain venture project promotion conference
Remarks: the above activities shall be based on the exhibition site publicity, and the final interpretation power shall be returned to the Organizing Committee of the general assembly.
八、收费标准
Eight, charging standard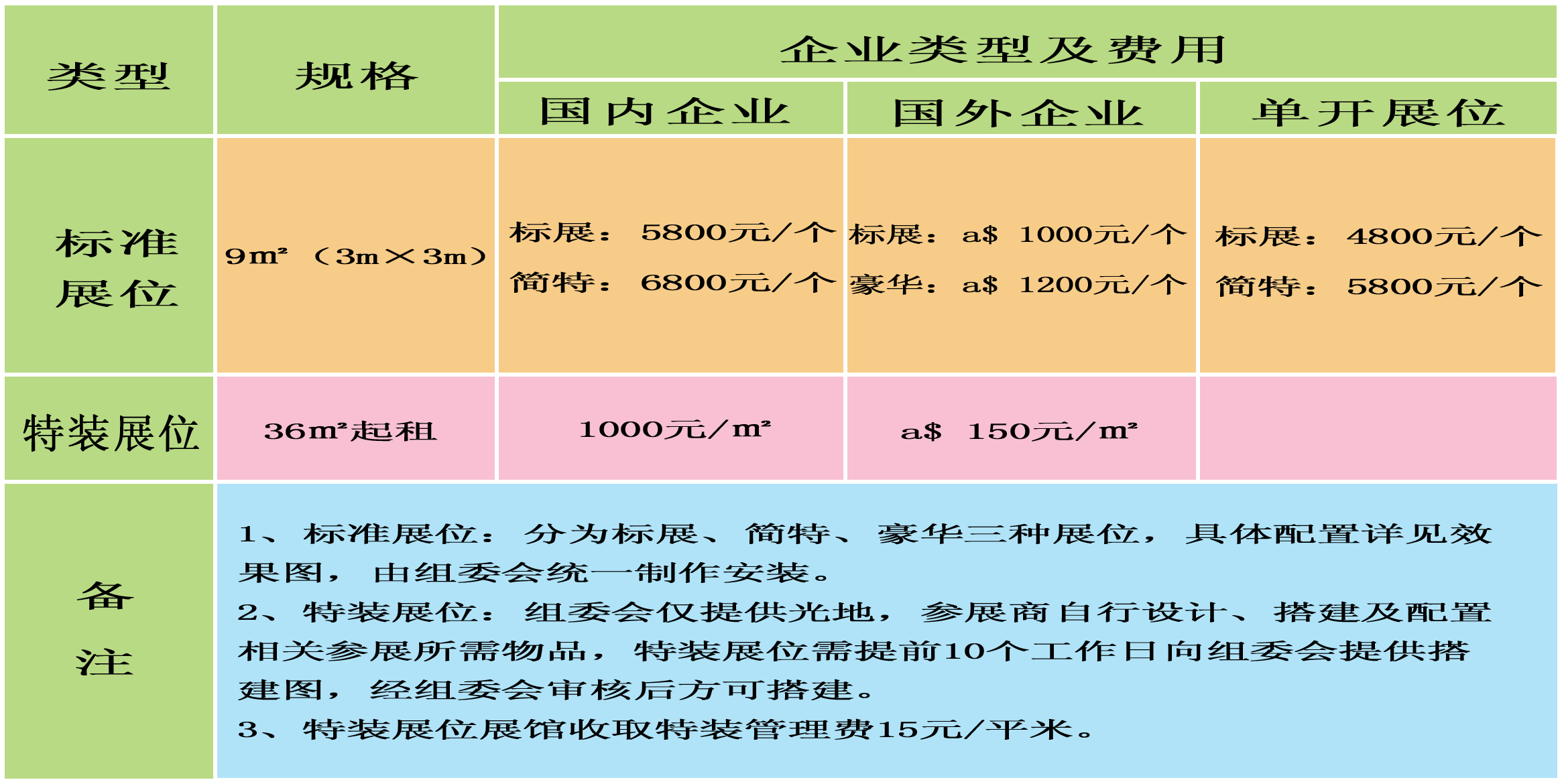 九、参展程序
索取资料→预定展位→签订合同→汇款→准备资料→按时参展
Nine. Participation procedures
To get information, to schedule booth, to sign contract, to remit money, to prepare information, to attend exhibition on time.
十、组委会指定汇款账户
户名:山东巨帆会展服务有限公司
开户行:工行济南开发区会展中心支行
账户:1602 1567 0910 0036 166
Ten. The organizing committee specifies the remittance account.
Account Name: Shandong giant sail Exhibition Service Co., Ltd.
Bank: branch of Ji'nan Development Zone Convention and Exhibition Center, ICBC
Account: 160215670910003616
十一、青岛国际糖酒会组委会联系方式
品牌名酒展区:15853107708 刘主任
食品饮品展区:18888370179 杨主任
国际葡萄酒展区:18766163383 李主任
参观热线:86-0531-88983453 郑经理
冠名赞助:13153179030石主任
后勤保障:18615227141 岳主任
微信公众号:qdgjtjh青岛国际糖酒会
电子邮箱:qingdaotangjiuhui@163.com
联系地址:中国 济南奥体西路1222号
Eleven. Contact form of Qingdao international sugar and Wine Association organizing committee
Famous brand wine exhibition area: 15853107708 director Liu
Food and Beverage Exhibition Area: 18888370179 director Yang
International Wine Exhibition Area: 18766163383 director Li
Visiting hotline: 86-0531-88983453 manager Zheng
Sponsor: 13153179030 stone director
Logistical support: 18615227141 Yue director
Exhibition website: www.qdtjh.com
WeChat public address: qdgjtjh Qingdao international sugar and Wine Association
E-mail: qingdaotangjiuhui@163.com
Contact address: No. 1222, Olympic Road West, Ji'nan, China.